01 avril 2008
Short description:
Nous voilà partis, Jacob et moi pour un trip de deux jours. Le premier jour consiste à rejoindre une cabane russe, à Colesbukta, situé le long d'Isfjorden, à mis chemin entre Longyearbreen et Barentsburg, où il est sensé y avoir un musé. Allez savoir quel genre de musé peut se trouver dans un tel endroit. Pour y parvenir, on longe une chaine de sommets à 900, 1000m d'altitude. Le plan est de dormir là bas, espérons qu'il y est un petit fourneau avec du bois. Le lendemain, on rentre sur Nybyen en longeant les montagnes de la veille, par la vallée de Colesdalen.
We are ready, Jacob and me to leave for a two days trip in ski. The first day consist to join a russian cabin called Colesbukta, along Isfjorden shore, half way between longyearbyen and barentsburg.
Into the cabin, it should have a museum (which kind of museum could be situated in a such place...!!).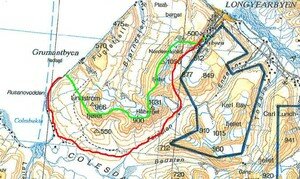 (map from http://www.sysselmannen.no/)
In green the first day, and in red the second day.

Now, some pictures!

The first day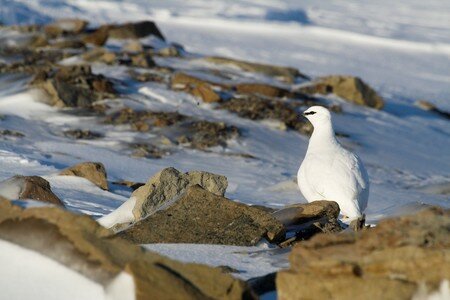 Première rencontre sur notre chemin: un lagopède
First meeting on our way up to Nordskoilen: a lagopus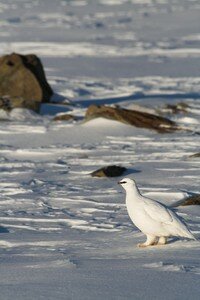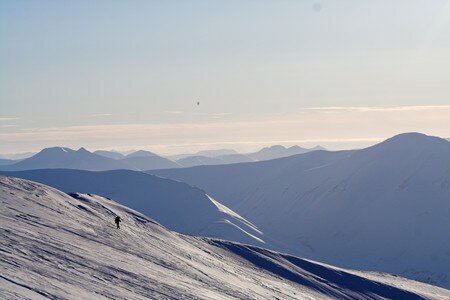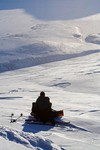 THE sunset over Isfjorden and mountain around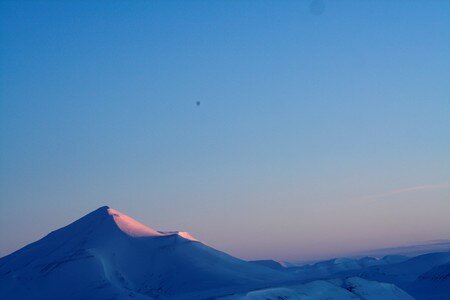 La falaise plongeante de Halkhornet dans Isfjorden.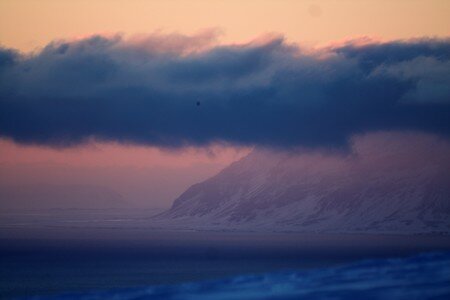 Tout ça pendant la descente en ski sur glacier en direction de la cabane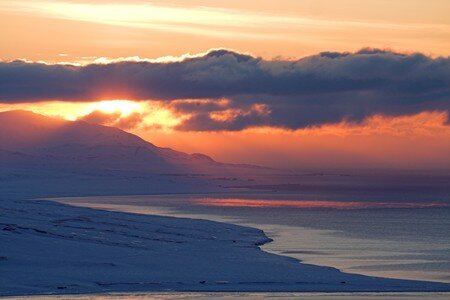 Below the sun, the national park of Festningen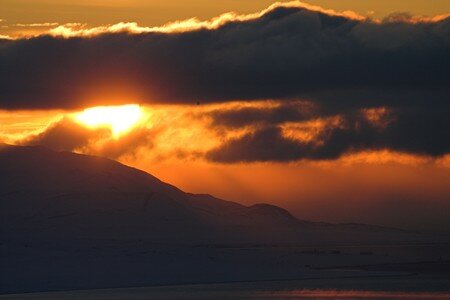 Fin de la descente dans un petit goulet. Surprise! des rennes mangent paisiblement
End of the way down into a tiny valley. Surprise!!! some reindeers eating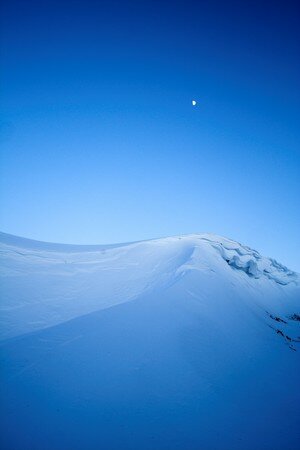 Dernier obstacle: un vieux pont en bois de l'ancienne ligne de chemin de fer longeant la côte, de l'époque où Grumantbyen, mine russe, était encore en exploitation. La ligne allait jusqu'au village de Colesbukta pour y être charger dans les bateaux.
Last obstacle, a old wooden bridge, used for the railway between Grumantbyen and Colesbukta, during the coal exploitation at Grumantbyen.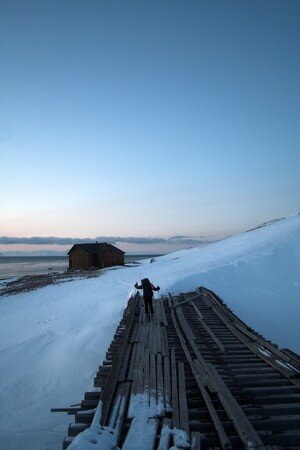 Second day: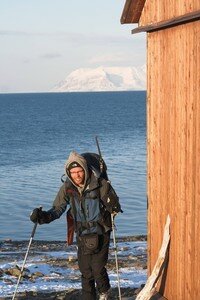 Voici notre fameux châlet. This is the cabin where we spent the night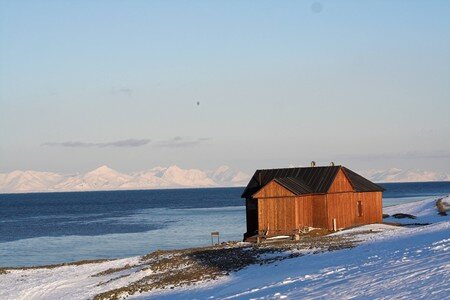 J'oubliais... Le musé: enfait il s'agit d'une petite salle aménagé, où des photos, des gravures et des textes de l'époque russe sur Svalbard sont exposés. Malheureusement, tout est en Russe. Normal, le chalet est russe...
I forgot... The museum, actualy, that's a small room where several pictures, texts are shown about the russian period. Unfortunately, everything in russian.
A peine sortie du chalet: deux rennes. Comme tout individus de cette espèce, ils doivent avoir un gène spécial les transformant en présence d'appareil photo, en mannequin. C'est incroyable l'attitude qu'ils adopte une fois sentit observés (cf plus bas)
Just out of the cabin, two reindeers. After this months surrounding by reindeers, i would say that this animal got a very special sense when a camera is around. That is incredible how they get a model atitude (cf below)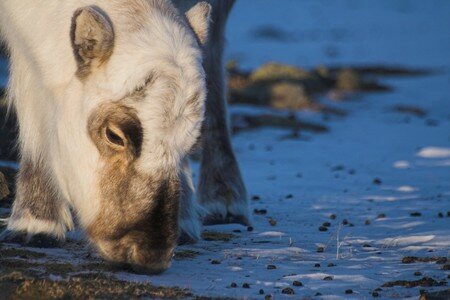 Une fois la séance fini...!
Colesbukta: Village en ruine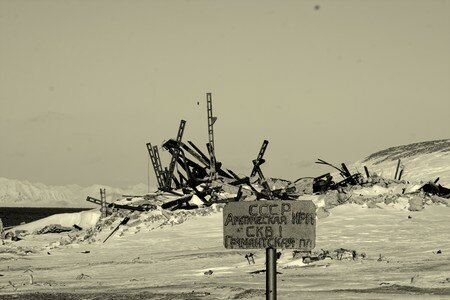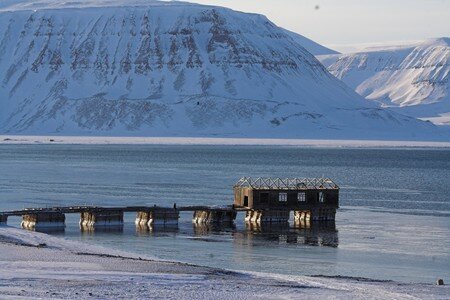 Visite d'un bâtiment en ruine: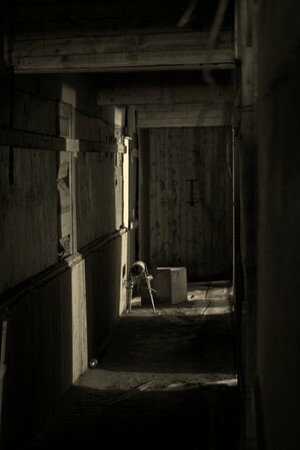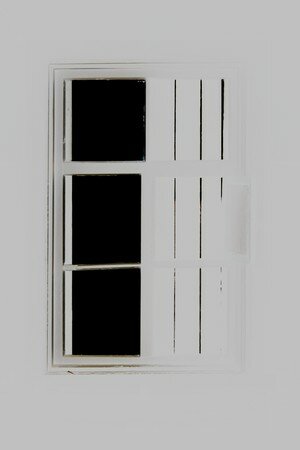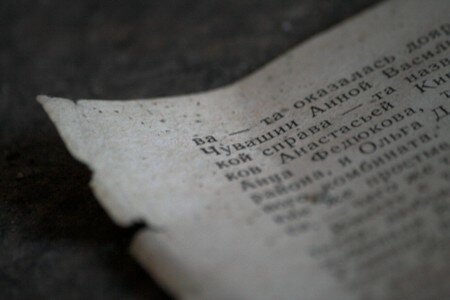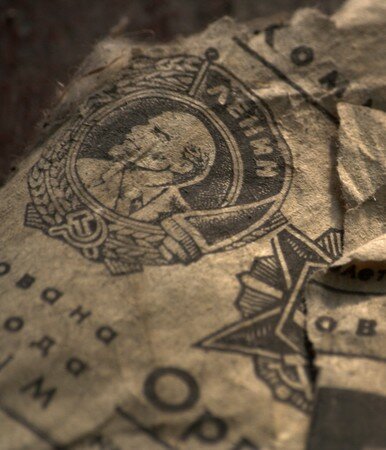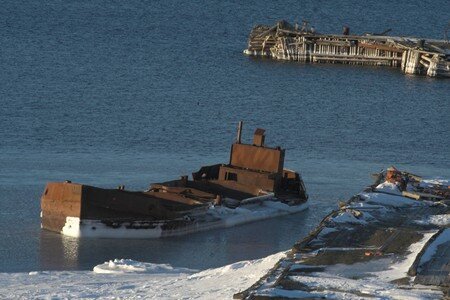 Après ce fut une longue journée de ski en fond de vallée avec un paysage... . After it was a long ski day, following valleys, to join Nybyen before 21h00 - time to trigger the rescue alert by people aware of our trip - if ever something would happen.
Finally, we reached Longyearbreen around seven o'clock: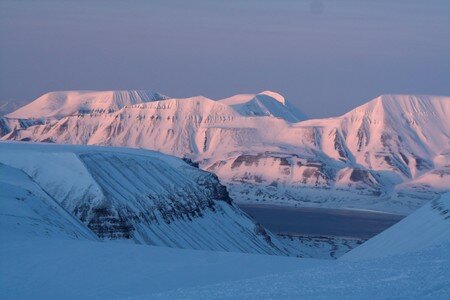 Une photo afin d'immortalisé la barbe de Jacob:-)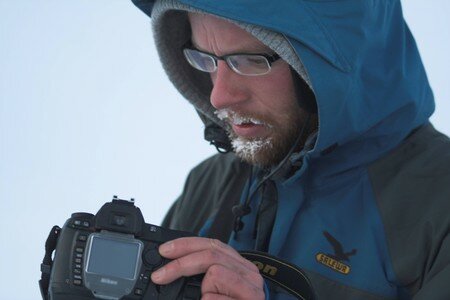 Et de la lune, qui nous aura suivit tout au long de ces deux jours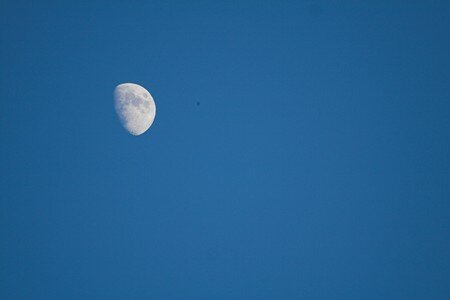 20 mars 2008
Voici, pour comparaison deux photos prisent au même endroit (depuis Nybyen), une le premier jour de cours 18 Février, et une le dernier 14 Mars.
Those pictures show the difference of brightness between the first day of school and the last one.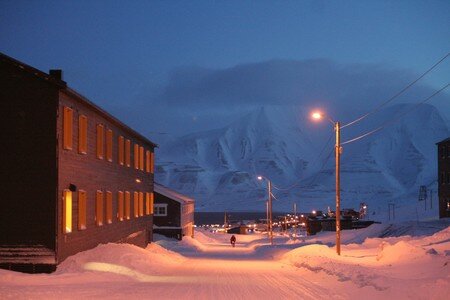 La majeur difference est la présence du soleil sur le sommet de la montagne sur la deuxieme photo.
The main difference is the sun light on top of the mountain.
Sky picture, in the middle, the polar star...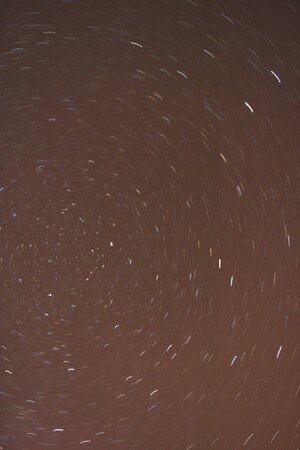 Aurore boréale au loin sur Longyearbreen: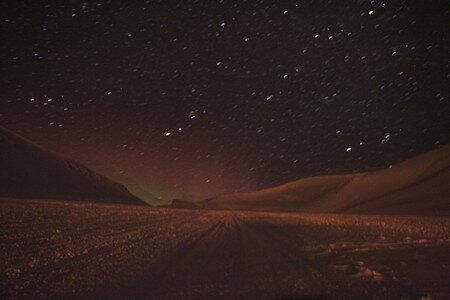 Après l'approche en scooter, enfin on va pouvoir skier sur Wimanfjellet.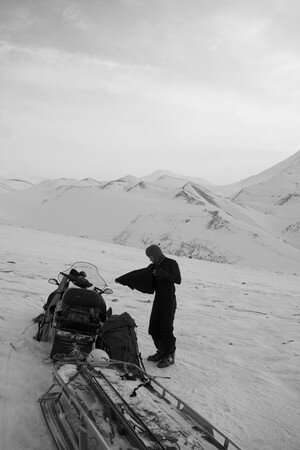 Sunset over Isfjorden,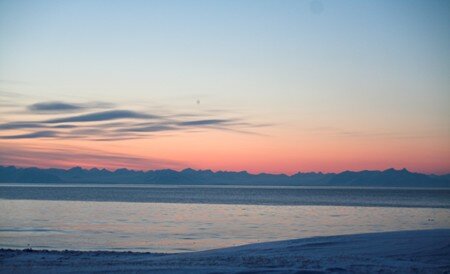 Terrasse polaire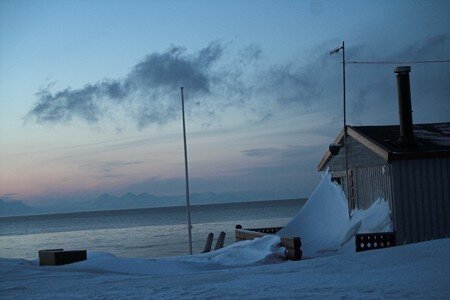 Bjorndalen cabin, in norvegian, bjorn means bear, hopefully we didn't meet anyone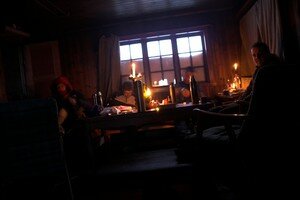 Lueur de nuit depuis Bjorndalen, réverbération des lumière de Longyearbyen dans les nuages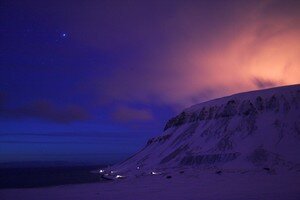 Jacob concentrates on his sunset picture from Nordskoilen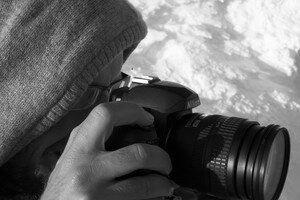 Revision time...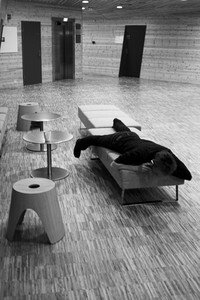 Un jolie barbeuc sur la plage par -20 très venté pour conclure ce mois à Svalbard inoubliable!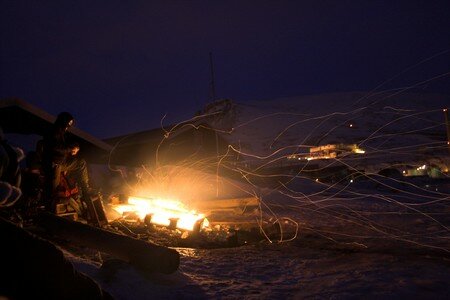 Contre plongée sur un ancien pylone de telephérique de mine
04 mars 2008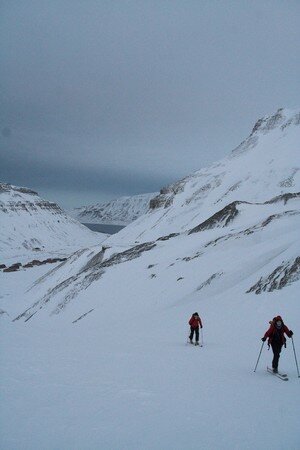 Première rando à ski: p'tits sommets à 900 mètre environ: Trollsteinen, Lars fjellet et entre les deux une sorte de plateau-arête.

Sur la photo, on aperçoit Nybyen, le village étudiant, et le fjord. On se trouve dans le vallon, au milieu des moraines, au pieds du glacier Larsbreen. Au passage, au pied du vallon, il y a une grotte dans une moraine, possible grâce au permafrost (terrain gelé).
First ski tour with the purpose to visit around our house. Our goal is to reach the summits Trollsteinen, and Lars fjellet, which are linked by a kind of plateau-edge.
The picture shows the student village Nybyen, and in the back the fjord of Longyearbyen. The picture was taken into the small valley to reach the glacier Longyearbreen. By the way, there is a moraine cave at the bottom.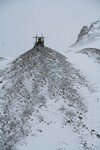 On the way, some mine ruin.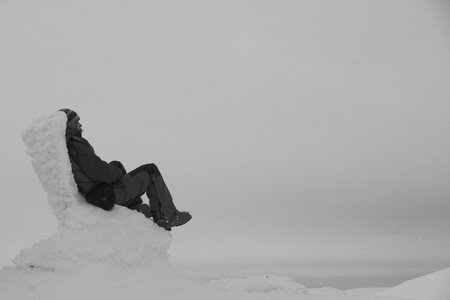 Nous voici au sommet de Lars fjellet! Quoi de mieux qu'un siège givré pour le casse-croute?!
This is the view southward. Pretty nice mountain, with a hole through the thick cloudy layer quite far away from us. However, it is nice to see that the sun is comming back!!
Voici la vue coté sud. Eh oui, comme sur 360°, il n'y a que des montagnes, toutes plus belles les unes que les autres. Au fond, malgré un manteau nuageux épais, on voit une trouée de soleil. C'est loin, mais ça fait deja plaisir de savoir que le soleil revient!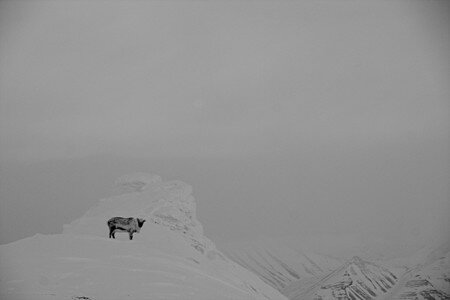 Rencontre inattendue, un renne apparait sur l'arête entre la pointe (Trollsteinen) et nous, a environ 50 mètre. De vrai top model ces rennes! Pause photo, et puis s'en va...
Suddenly a funny meeting, a reindeer appears between the top and we, at about 50m. It acts as a perfect model, just the time to take it in picture, et hop... it disappears.
Pause photo avant le sommet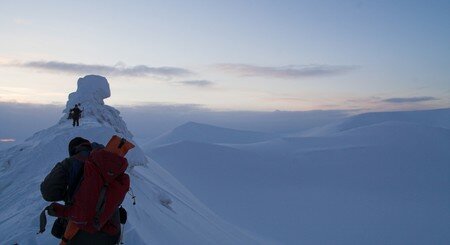 Arrivé au sommet. Rien de bien difficile en soi, mais une super belle pente a descendre au lumière du coucher du soleil. Juste pour la petite histoire, les montagnes qui comporte le mot "troll" sont enfait rien d'autre qu'un troll pétrifié. Ici le sommet et une grosse pierre rectangulaire de la taille d'une voiture, je l'avoue parfois il faut de l'imagination.

Reaching the top. Nothing really difficult, but a beautifull slope to ski down, with sunset light. Usualy, in Norway, mountain which has the word "Troll" in their name are simply a troll petrified. maybe in this case we need a lot of imagination to see the troll, just the right point of view is required.


Pas de photo de la descente, mais ce fut un régale pour la première. Le plus impressionnant, c'est l'ambiance: des montagnes blanches a pertes de vues, le fjord, et apercevoir le soleil.
Une team polyglotte:
- Raven, islandaise (je vous donnerai pas sont vrai prénom, il est imprononçable)
- Émilie, je vous laisse deviner la nationalité
- Jacob, autrichien
- Din, anglais

No picture about the skiing part, but trust me, it was great for the fisrt tour here. The most impressive is the athmosphere: white mountains all around, the fjord, and sun preview.
Thanks to the team:
- Raven from Iceland (that is not her exact firstname, because it is impossible to say it, too hard)
- Emilie, from France
- Jocab from austria
- Din from UK


Deuxième jours, Nordstoilen, 900 et des poussière

Ce sommet se situe également juste derrière ma chambre. Il surplombe le glacier Longyearbreen. Juste deux photo, et pour cause, un froid terrible coupler avec du vent.

This summint is situated just behind my room as well. It is right over the glacier Longyearbreen. Only two pictures because of a terrible cold mixed with strong wind.


Vue sur la partie haute de Longyearbreen. Breen signifie glacier en norvégien.

Sight on the upper part of the Longyearbreen glacier.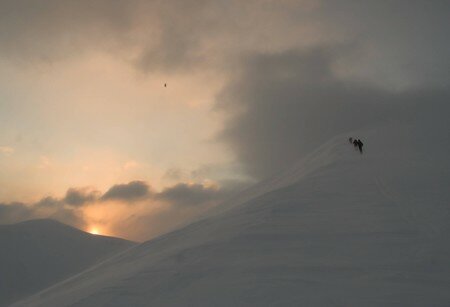 Marche vers le sommet avec un vent très fort et surtout très froid. Au final, compte tenu des condition de neige -pas bonnes du tout- et de la météo, on a fait demi-tour avant la fin. Descente rapide afin de rejoindre le fond de vallée abritée du vent. Mais bon, on a réussi a capter pour les premiers rayon du soleil, qui était le but de notre journée.

Hike to reach the top. very strong and cold wind. Finally, we turned back, it didn't make any sense to continue into such condition. Then quick descent to come back in the bottom valley, where the wind is much lower. The purpose of our journey, to see the sun, accomplished!

Team: Lars (1), Norway
Lars (2), Norway
Jacob, Austria
Raven, Iceland
and me



Third randonnée, on (i don't remenber the name, it will come soon)



Cette montagne se situe juste en face de Longyearbyen par rapport au fjord. C'est celle qui à travers la fenêtre me fait rêver en cours depuis le début. Parfaite exposition, ensoleillé toute la journée, pentes du cirque complétement blanches.

This mountain just in front of Longyearbyen compare to the fjord is the one, i looked so long through the window, dreaming to ski it with its beautifull white valley, perfectly oriented to the sunlight!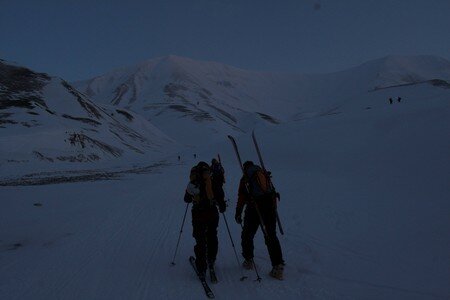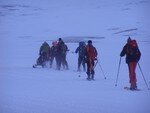 Afin de traverser la vallée d'Adventalen, environ 6km de large, Lisa nous a tiré derrière un ski-doo jusqu'au départ de la rando. 1 à 2h de gagnées
Lisa pull us behind her snowscooter to cross Adventalen valley, approximately 6km wide. About 1-2hrs less of boring ski :-)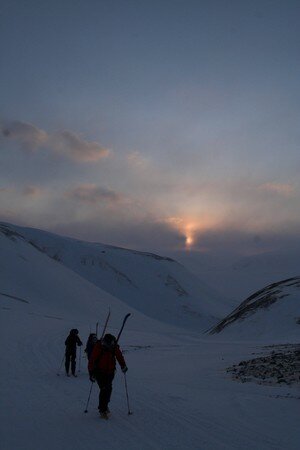 Au milieu des anciennes mines...





























Vue derriere l'arête.

Sight on the other side of the edge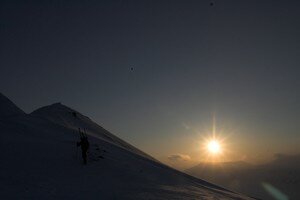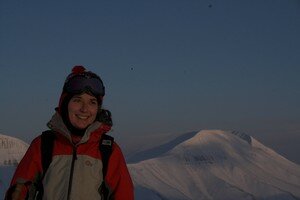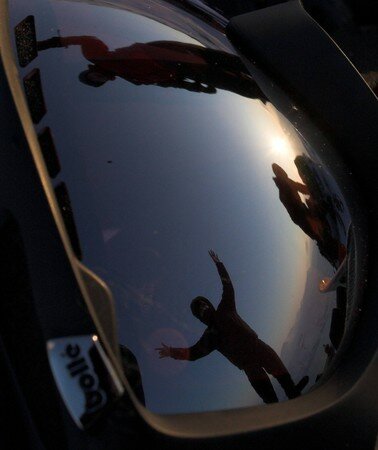 Casse-croute avant d'attaquer l'arête bien bien ventée.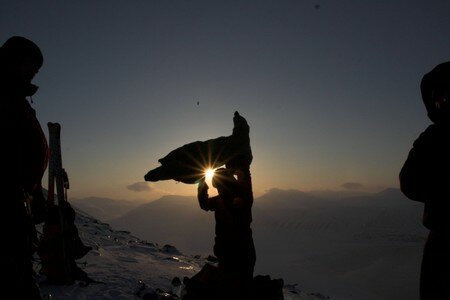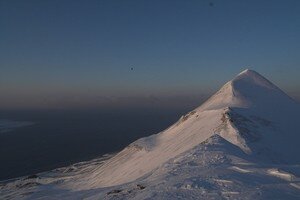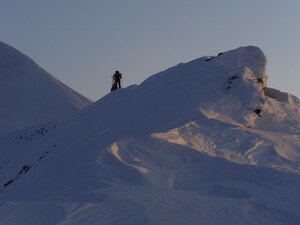 Obligé de finir avec les skis sur le sac à dos
We must finish with our ski on the bag-pack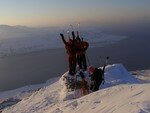 At the top, happy to be there, and also, very hurry to go down, and get warm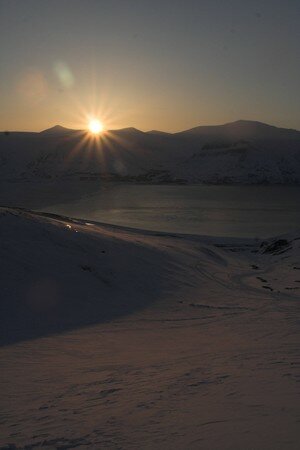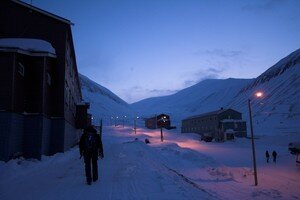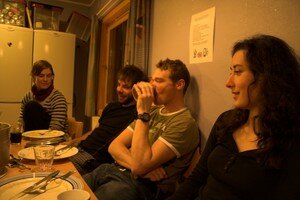 26 février 2008
Excursion d'une journée en scooter des neiges au programme, afin de récupérer des données GPS sur le terrain.

One day of excursion in snow mobil for today, to pick up some GPS data on field.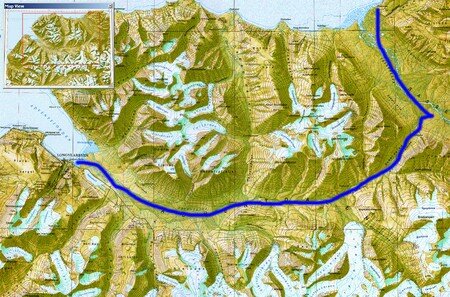 En bleu, l´itineraire que l´on a fait, soit environ 120km aller-retour
In blue, our trip path, about 120km way and back.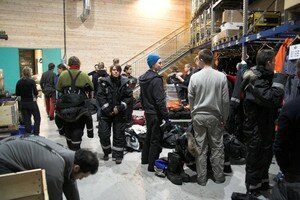 La première étape consiste à enfiler une combinaison spéciale, des bottes de cosmonaute ou presque, une cagoule coupe vent, un masque, une bonne paire de gant et un casque pour finir. Météo: -20°C et beaucoup de vent

The first step consists of dress up special wind and water proof clothe, cosmonaut boots, a mask, some very warm miten, and an helmet. Meteo : -20° et so much wind.







Voici le stock de matos de la fac, tout ce qu'il faut pour faire des expédition dans des conditions extrême: carabine, piolets, baudrier, veste, combinaison, zodiac, et j'en passe. Une vraie salle de rêve quoi!!

This is the storage room for all the technical staff inside the university. there is everything to do an expedition in extreme condition: rifles, ice axe, harness, very warm clothe, boat, and so one... the dreamed room!!



Ready to go!! miss only the most important: the scooter.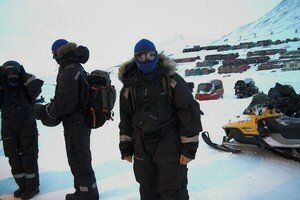 ça y est, c'est parti!! dans le dos, Longyearbyen et son fjord.

After a long preparation, on the way! you can see in the background Longyearbyen and its fjord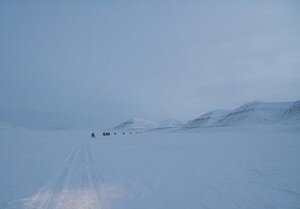 19 scooter en lignes!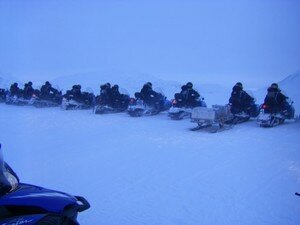 A la première halte, on découvre un pingo. Non, ce n'est pas une espèce de pingouin, ni animal d'ailleurs, et encore moins végétale. En fait il s'agit d'une petite colline en forme conique composé de glace et de sol en surface, très caractéristique des zones glaciaires. Voici le lien Wikipédia pour en apprendre un peu plus, ce qui vaudras mieux que de long discours:
http://fr.wikipedia.org/wiki/Pingo

At the fisrt stop, we could saw what we call a pingo. no, that is not a kind of pinguin! but a kind very special geological hill, which is created in frozen soil area. To know more about this have a look at http://en.wikipedia.org/wiki/Pingo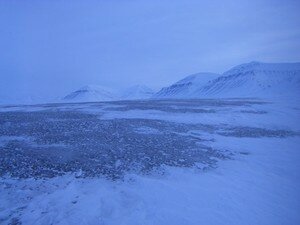 Sur cette photo, on voit très bien du sol permafrost, qui comme son nom l'indique, un sol qui reste gelé tout au long de l'année. Je vous parle de ça car c'est le sujet centrale de mon cour intitulé "cold regions field investigation".

On this picture, we can clearly see a permafrost soil, which means that it is a soil frozen the whole year. I wanna to indrituce you that because it is the main topic of the course i have here: "Cold regions field investigation".






Pour conclure ces cents et quelques kilomètres en snowscooter, la traversé de ces fantastiques paysages, et essayé d'oublier le douloureux mal de dos, rien de tel qu'une p'tite bière (øl en norvègien).

To conclude this wonderful and hard journey, nothing better than a small beer!

20 février 2008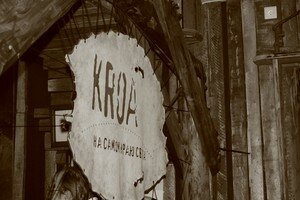 Encore peu de photo de la ville, du village plutôt, mais il ressemble au villages des Western à la John Wain, avec des maisons en bois, parsemées le long d'une route centrale. Un peu partout autour, on peut apercevoir les anciennes mines de charbon avec leurs téléphériques (pylône en bois) allant jusqu'au port. Le plus flagrant, c'est le port d'arme. Et oui, il est possible d'aller faire ces course avec sa carabine (déchargé bien entendu), d'ailleurs même mon placard est doté d'un rangement spécial pour carabine, c'est pour dire. Mais bon, ceci est justifié par le risque de rencontrée d'un ours à tout moment. Deux jours de ça, l'un d'entre eux est venu visité le village, voir s'il n'y avait rien à se mettre sous la dent. ça reste quand même rare; d'après les locaux.
Sinon, sur la photo de gauche, c'est l'enseigne du saloon local, Kroa (se prononce "crouua"), tendu sur une peau de phoque. Touts les tabourets en sont recouvert. Afin de vous rassurer, il y a toujours des phoques sur l'ile, et ces peaux paraissent assez anciennes. L'ambiance est un mix entre mine, et trappeur, les deux moyens de survie sur l'ile il y a 50 ans.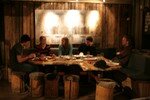 Sorry, not so much picture about the village yet, but it seems a lot like a Western movie village: wooden house spread along a main road, mine lift all around the city, everybody riding his own snowscooter with a rifle on the shoulder, even to make shopping (of course unloading!). The wardrobe of my room gets a special lock for the rifle as well! At least, here that is quite normal, because of the risk to meet a polar bear whenever, wherever. Two days ago, people told us that on of them came into the city. However, that is not really common, usualy, they are afraid by the noise, the street lights...
On the first picture, the pictogram of the local saloon, Kroa, mining and trappor atmosphere...

Ici, un renne s'acharnant sur un des seul sapins que compte le village. Apparemment il n'ont peur de rien, et pas la moindre inquiétude de notre présence.
P'tit rappel, il perde leur bois l'hiver.
This is a reindeer, eating the last poor christmas tree of the city. It is absolutely not disturb by our presence!
Just to remind, they lost their antlers during the winter.
Premier matin (18/02), direction la fac depuis Nybyen vers Longyearbyen (distance d'environ 3km). Ces grosses baracks sont les logements étudiants. Au fond Longyearbyen, et le fjord Isfjorden. Les sommets en face ne dépassent pas les 900m.
First morning, direction to school from Nybyen, the student village, to Longyearbyen, 3km far away. In the background, the fjord called Isfjorden. Mountains doesn't go over 900m high.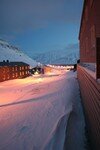 Cours de sécurité sur l'ile, principalement vis à vis du froid, et des ours. On a passé une bonne partie de la journée a faire du tir à la carabine sur des cible de photo d'ours. Tir couché, à genou, debout.



Safety course about arctic risk: cold, and polar bear. We spent most of the day outside, shooting on bear picture targets.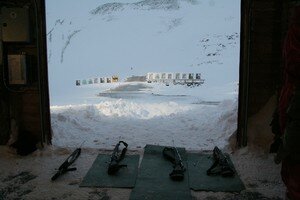 Ce que l'on voit sur la photo, n'est pas le soleil, mais la lumière d'un projecteur. Les rayons du soleil commencent seulement à effleurer les crêtes des montagnes en face sud.

The light you can see is not from the sun, but from a big projector. The sunlight shine just on the top of the south face of mountains.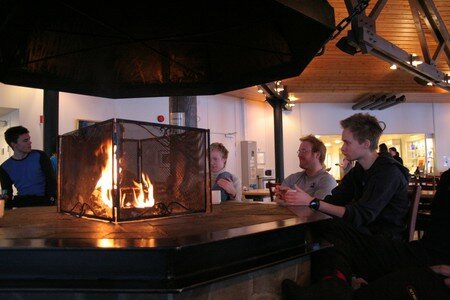 Deuxième jour, pause matinale autour d'un joli petit feu au milieu de la cafet'.


Second day, lecture break around the fire place into the cafeteria, very cosy.











Et pour finir, voici la charpente de la cheminée, que je trouve particulièrement jolie.

And to finish, this is the structure surrounding the chemney. Nice, no?!
Départ de Oslo avec le soleil à 9h20 dimanche matin (17/02)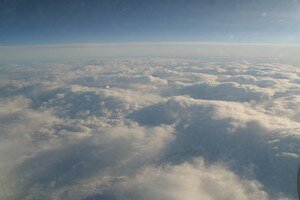 Dommage, nuage sur toute la Norvège du sud au nord, donc pas possible de voir le paysage
Unfortunately, Norway is cloudy from South to North, so impossible to see all the shore landscape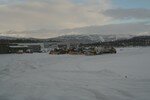 (Pa' regarde les chasses neige!! pour la piste d'aéroport, ils rigolent pas les norvégiens)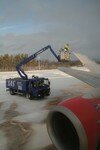 Nettoyage des ailes et ravitaillement de l'avion dans un aéroport militaire après une heure de vol supplémentaire au dessus de Tromso sans jamais pouvoir s'y poser. raison: tempête de neige.


Cleaning of the wings and reloading of the aircraft in a small militarian airport close to Tromso, after a long fly over Tromso without any possibility to land in there. Too big snow storm.



Ici, en regardant bien il doit être possible de voir un p'ti bout de l'ile aux ours, à mi-chemin entre le cap nord et Svalbard;


Here, you might see a little part of the bear island, just half way between the North cap and Svalbard;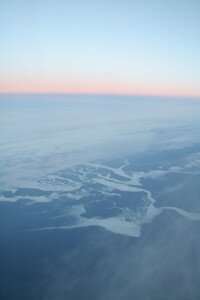 Formes bizarres sur la mer, couché du soleil depuis le ciel;

Strange shape on the sea, and sunset from the aircraft;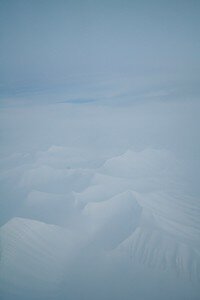 Arrivée au dessus de l'archipel, premières montagnes;

Fisrt mountains completely full of snow on the archipelago;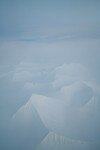 Encore des montagnes blanches..., à en rester bouche B (désolé pour les fadas de la langue françaises qui se reconnaitront, mais je savais pas comment l'écrire ;-)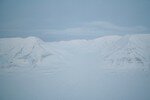 Toujours des montagnes...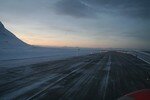 Enfin l'aéroport de Longyearbyen après une bonne partie de la journée passée dans l'avion (environ 15h30)

Finally, arrival at Longyearbyen airport after a long day into the plane.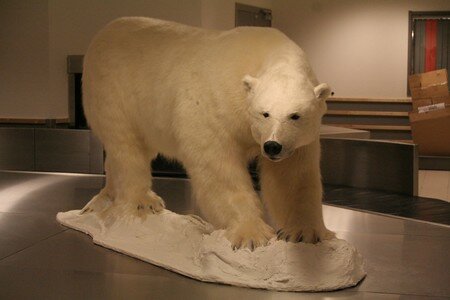 Et qui voila une fois descendu de l'avion!!! un bel ours polaire empaillé.

Who is waiting for us inside the airport? Guess so!!...
19 février 2008
Svalbard is an archipelago situated between Norway and the North Pole, Barents sea and Arctic Ocean with a total superficy of 62 000 km² (like 10% of France). Most of it is covered by glacier, about 60% of the total area, and mountain, plateau. The highest point reaches an altitude of

1700 m

.
This territory is international, however, a Norwegian governor control it.
Svalbard est un archipel situé entre la frontière russo-norvégienne, et le pole nord, entre la mer de Barents et l'océan arctique. Ca superficie est équivalente à 10% de

la France.

Elle

est recouverte à 60% par des glaciers. Le reste ce compose de montagne et plateau n'excédant pas

1700 m

d'altitude.
Ce territoire est considéré comme zone international, mais est souveraineté du royaume de norvège, sous l'autorité du gouverneur de Svalbard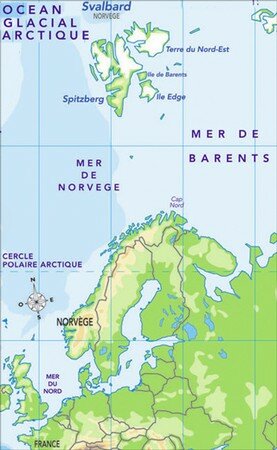 The main island is called

Spitsbergen

, where most of the human activity is located. Many communities, very small are spread on this island. The biggest is Longyearbyen, Norwegian, with 2000 inhabitants for the full year. Before, it was a mine city mainly for coal. Nowadays, scientific research (UNIS University) and tourism pull almost all the economic activity.
Then, there is a Russian community as well, called Barentsburg, 50km south to Longyearbyen.
L'ile principale s'appel Spitzberg, là où la plupart des activités humaine se situes. Il y a plusieurs communautés, dont Longyearbyen, qui est la plus grosse, environ 2000 habitant à l'année. Ces principales ressources sont la recherche scientifique (Université UNIS) et le tourisme.
The climate is a kind of desert, and not so cold compare to the latitude: -20° in winter and 0 up to

10 in

summer. Of course the winter is completely dark and the summer bright.
Some animal live there all the year, like the polar bear, polar fox, caribou (renne), walrus, seal…
Le climat est plutôt désertique, et surtout pas très froid par rapport a la latitude. -20° en hiver et 0 à 10 en été. Bien entendu, l'hiver est dominé par la longue nuit polaire, et l'été par le soleil de minuit.
Plusieurs espèces animales peuplent l'ile, comme les ours polaire, le renard des neiges, les rennes (que l'on peu voir en plein milieu du village), des morses, et des phoques…