04 mars 2008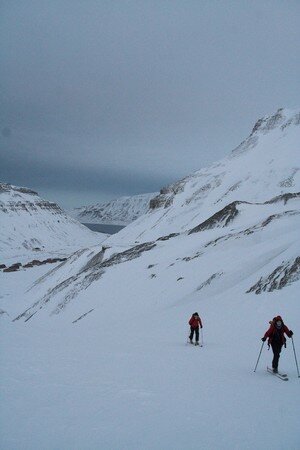 Première rando à ski: p'tits sommets à 900 mètre environ: Trollsteinen, Lars fjellet et entre les deux une sorte de plateau-arête.

Sur la photo, on aperçoit Nybyen, le village étudiant, et le fjord. On se trouve dans le vallon, au milieu des moraines, au pieds du glacier Larsbreen. Au passage, au pied du vallon, il y a une grotte dans une moraine, possible grâce au permafrost (terrain gelé).
First ski tour with the purpose to visit around our house. Our goal is to reach the summits Trollsteinen, and Lars fjellet, which are linked by a kind of plateau-edge.
The picture shows the student village Nybyen, and in the back the fjord of Longyearbyen. The picture was taken into the small valley to reach the glacier Longyearbreen. By the way, there is a moraine cave at the bottom.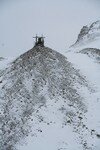 On the way, some mine ruin.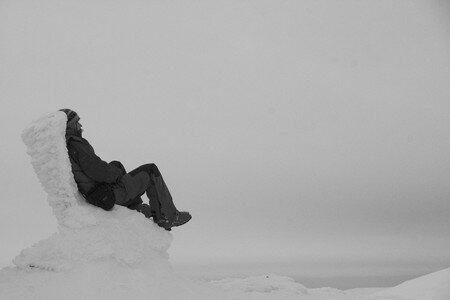 Nous voici au sommet de Lars fjellet! Quoi de mieux qu'un siège givré pour le casse-croute?!
This is the view southward. Pretty nice mountain, with a hole through the thick cloudy layer quite far away from us. However, it is nice to see that the sun is comming back!!
Voici la vue coté sud. Eh oui, comme sur 360°, il n'y a que des montagnes, toutes plus belles les unes que les autres. Au fond, malgré un manteau nuageux épais, on voit une trouée de soleil. C'est loin, mais ça fait deja plaisir de savoir que le soleil revient!
Rencontre inattendue, un renne apparait sur l'arête entre la pointe (Trollsteinen) et nous, a environ 50 mètre. De vrai top model ces rennes! Pause photo, et puis s'en va...
Suddenly a funny meeting, a reindeer appears between the top and we, at about 50m. It acts as a perfect model, just the time to take it in picture, et hop... it disappears.
Pause photo avant le sommet




Arrivé au sommet. Rien de bien difficile en soi, mais une super belle pente a descendre au lumière du coucher du soleil. Juste pour la petite histoire, les montagnes qui comporte le mot "troll" sont enfait rien d'autre qu'un troll pétrifié. Ici le sommet et une grosse pierre rectangulaire de la taille d'une voiture, je l'avoue parfois il faut de l'imagination.

Reaching the top. Nothing really difficult, but a beautifull slope to ski down, with sunset light. Usualy, in Norway, mountain which has the word "Troll" in their name are simply a troll petrified. maybe in this case we need a lot of imagination to see the troll, just the right point of view is required.


Pas de photo de la descente, mais ce fut un régale pour la première. Le plus impressionnant, c'est l'ambiance: des montagnes blanches a pertes de vues, le fjord, et apercevoir le soleil.
Une team polyglotte:
- Raven, islandaise (je vous donnerai pas sont vrai prénom, il est imprononçable)
- Émilie, je vous laisse deviner la nationalité
- Jacob, autrichien
- Din, anglais

No picture about the skiing part, but trust me, it was great for the fisrt tour here. The most impressive is the athmosphere: white mountains all around, the fjord, and sun preview.
Thanks to the team:
- Raven from Iceland (that is not her exact firstname, because it is impossible to say it, too hard)
- Emilie, from France
- Jocab from austria
- Din from UK


Deuxième jours, Nordstoilen, 900 et des poussière

Ce sommet se situe également juste derrière ma chambre. Il surplombe le glacier Longyearbreen. Juste deux photo, et pour cause, un froid terrible coupler avec du vent.

This summint is situated just behind my room as well. It is right over the glacier Longyearbreen. Only two pictures because of a terrible cold mixed with strong wind.


Vue sur la partie haute de Longyearbreen. Breen signifie glacier en norvégien.

Sight on the upper part of the Longyearbreen glacier.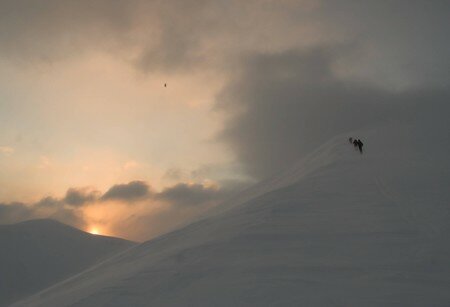 Marche vers le sommet avec un vent très fort et surtout très froid. Au final, compte tenu des condition de neige -pas bonnes du tout- et de la météo, on a fait demi-tour avant la fin. Descente rapide afin de rejoindre le fond de vallée abritée du vent. Mais bon, on a réussi a capter pour les premiers rayon du soleil, qui était le but de notre journée.

Hike to reach the top. very strong and cold wind. Finally, we turned back, it didn't make any sense to continue into such condition. Then quick descent to come back in the bottom valley, where the wind is much lower. The purpose of our journey, to see the sun, accomplished!

Team: Lars (1), Norway
Lars (2), Norway
Jacob, Austria
Raven, Iceland
and me



Third randonnée, on (i don't remenber the name, it will come soon)



Cette montagne se situe juste en face de Longyearbyen par rapport au fjord. C'est celle qui à travers la fenêtre me fait rêver en cours depuis le début. Parfaite exposition, ensoleillé toute la journée, pentes du cirque complétement blanches.

This mountain just in front of Longyearbyen compare to the fjord is the one, i looked so long through the window, dreaming to ski it with its beautifull white valley, perfectly oriented to the sunlight!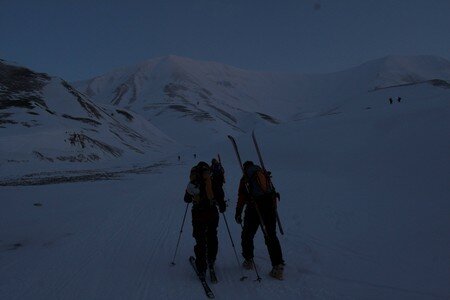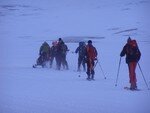 Afin de traverser la vallée d'Adventalen, environ 6km de large, Lisa nous a tiré derrière un ski-doo jusqu'au départ de la rando. 1 à 2h de gagnées
Lisa pull us behind her snowscooter to cross Adventalen valley, approximately 6km wide. About 1-2hrs less of boring ski :-)
Au milieu des anciennes mines...





























Vue derriere l'arête.

Sight on the other side of the edge


















Casse-croute avant d'attaquer l'arête bien bien ventée.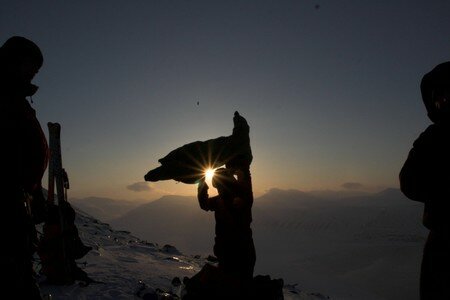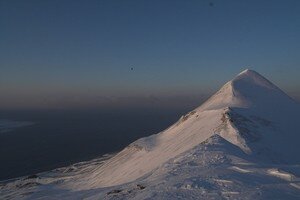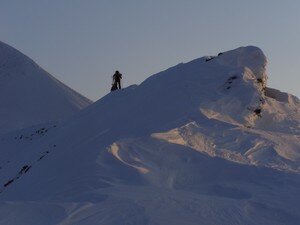 Obligé de finir avec les skis sur le sac à dos
We must finish with our ski on the bag-pack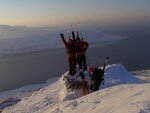 At the top, happy to be there, and also, very hurry to go down, and get warm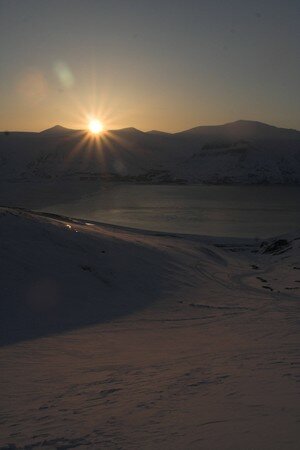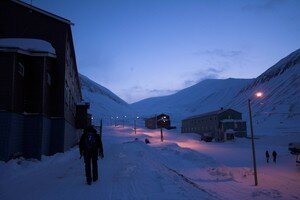 Commentaires sur Premières randos